KGH DAY OF GIVING 2022
Community Shows Up in Support for Local Mental Health Care
KELOWNA, BC, April 22, 2022 – Yesterday marked the sixth annual KGH Foundation Day of Giving, a one-day call to action for the community to support excellence in local health care. By midnight last night, April 21, a total of $969,207.06 had been raised in support of the Foundation's 'We see you' campaign to provide immediate funding for local mental health care providers, and support long-term collaboration for system change.  The campaign is a collaboration between the Foundation, Interior Health, and community providers including CMHA-Kelowna, the Child Advocacy Centre and Kelowna Community Resources.
"Yesterday, the community made their commitment to advancing mental health care right here at home absolutely clear," says Allison Ramchuk, CEO of the KGH Foundation.  "Mental health care MUST be a priority. Because it is care for all of us."
Heading into KGH Day of Giving, three generous local families had agreed to match all donations made up until midnight.
"What we saw this year, compared to Day of Giving in year's past, is so many MORE people are giving.  Calling in, donating online and driving through our donation station at the hospital," relayed Chandel Schmidt, the KGH Foundation's Senior Director of Philanthropic Programs.
"Our first gift of the day, just before 6 a.m., was from a gentlemen who seemed a little down on his luck. As he was walking by, he asked what we were up to. When we told him, he dug into his pocket and produced 40 cents.  He said, 'It's all I have, but I want to give. What you're doing is very important'," says Schmidt.  "We were so touched by his generosity. This is why Day of Giving is incredibly special.  It provides everyone with the opportunity to take action in support of better health care in our community."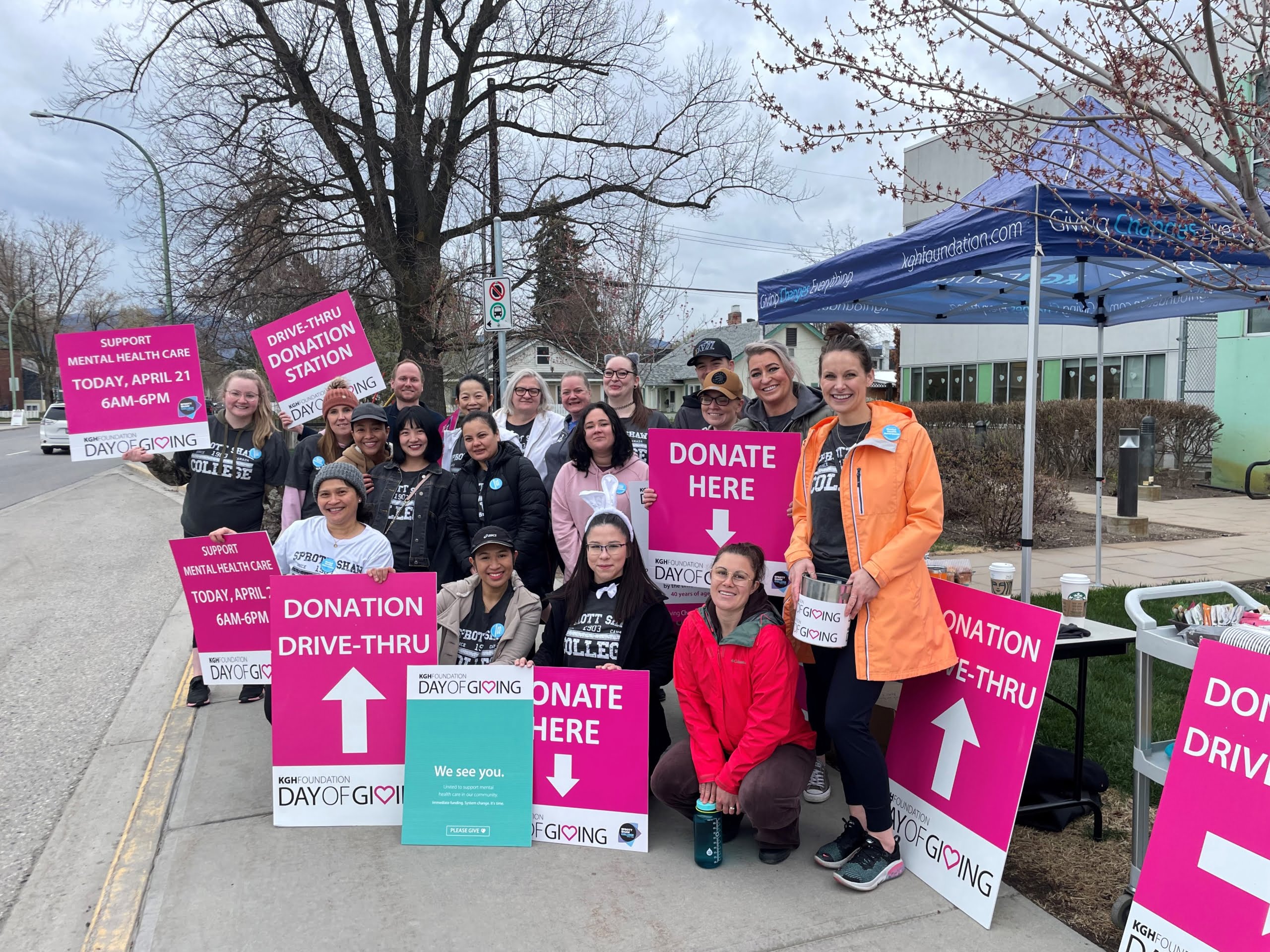 The boisterous calls from the Sprott-Shaw Change Bandits, once again, got morning, mid day and drive-home commuters digging through their consoles and pulling out their wallets as they drove by Kelowna General Hospital.  Community ambassadors such as Gavin Hamilton from the Kelowna Rockets and Kelowna Mayor, Colin Basran (who also happens to be a proud KGH Foundation volunteer) stopped by.
The management teams from local Save On Foods stores came too, and even provided a surprise gift – a Save on Foods gift card – to some lucky drive-through donors.
"Being a part of this Day of Giving reminds us how important it is that we come together as a community to support one another," says Orchard Plaza Save on Foods Manager, Scott Nazaruk.  "It was really heart-warming to witness the generosity of folks firsthand."
"This was a truly an unprecedented show of support for local mental health care programs in our community," observes Ramchuk.  "Nearly a million dollars in one day.  Incredible."
The KGH Foundation would like to gratefully acknowledge the continued support and partnership of the local Bell radio stations – Virgin 99.9, MOVE 101.5 and AM 1150 – the on-air personalities, producers and promotions teams for their critical role in the success of the Day of Giving fundraising effort.
Since 1978, the KGH Foundation has worked with a generous community to raise funds to support world-class health care close to home for a rapidly expanding and diverse population in the interior of B.C.  Today, the KGH Foundation is the lead fundraising organization for Kelowna General Hospital and its associated facilities, JoeAnna's House and Central Okanagan Hospice House.