KELOWNA, BC, – August 31, 2021
The Kelowna General Hospital (KGH) Foundation's $8 million Every Moment Matters campaign to fund wide-sweeping advancements in stroke care for patients from across the southern interior of B.C. is complete.
This summer, the Foundation received a significant gift from Marshall Eliuk, an Alberta-based businessman who now enjoys living in the Okanagan part-time. Eliuk is the same generous donor who, in 2019, provided a sizable gift to complete the Foundation's campaign to bring advanced heart rhythm services to KGH.
Eliuk's generous gift of over $1 million was enough to reach the fundraising goal for Every Moment Matters, well ahead of schedule.
It's only been five months since the Foundation publically announced the ambitious plan for the future of stroke care at KGH, after delaying the public launch for a full year due to the pandemic.
"The generosity of this community has prevailed," says Doug Rankmore, CEO of the KGH Foundation. "Stroke has touched so many lives in our community. It is clearly a meaningful cause that is important enough for people to take action."
Last year in the Interior Health (IH) region, there were over 1,800 reported cases of stroke. The impact on patients and their families is significant. Stroke is still the leading cause of long-term disability in adults and the third leading cause of death B.C.
The funds raised will support a comprehensive stroke care plan that provides for the acquisition of specialized equipment and technology and the implementation of unique, regional services to radically improve patient care, from stroke onset to rehabilitation. This includes a $4.6 million acquisition that brings Endovascular Thrombectomy (EVT) to KGH, a service that has been previously only available in Vancouver and Calgary in Western Canada.
"The impact will be absolutely life-changing for our regional stroke patients," says Dr. Aleksander Tkach, Vascular Neurologist at KGH and Medical Director for the IH Stroke Network. "I am so incredibly grateful to Mr. Eliuk and the people of this community for making this possible."
Funding will also catalyze the recruitment of specialists, provide for the expansion of the stroke unit, support rehabilitation, and enable enhanced tele-neurology for access to specialist care, particularly for rural, remote and Indigenous communities across the region.
Since launching, the response from the community has been swift and substantial. In addition to generous individual donations and third-party fundraisers, corporations have also come forward up with significant gifts – corporations like Canada Life, recently came forward with $100K in support of the campaign.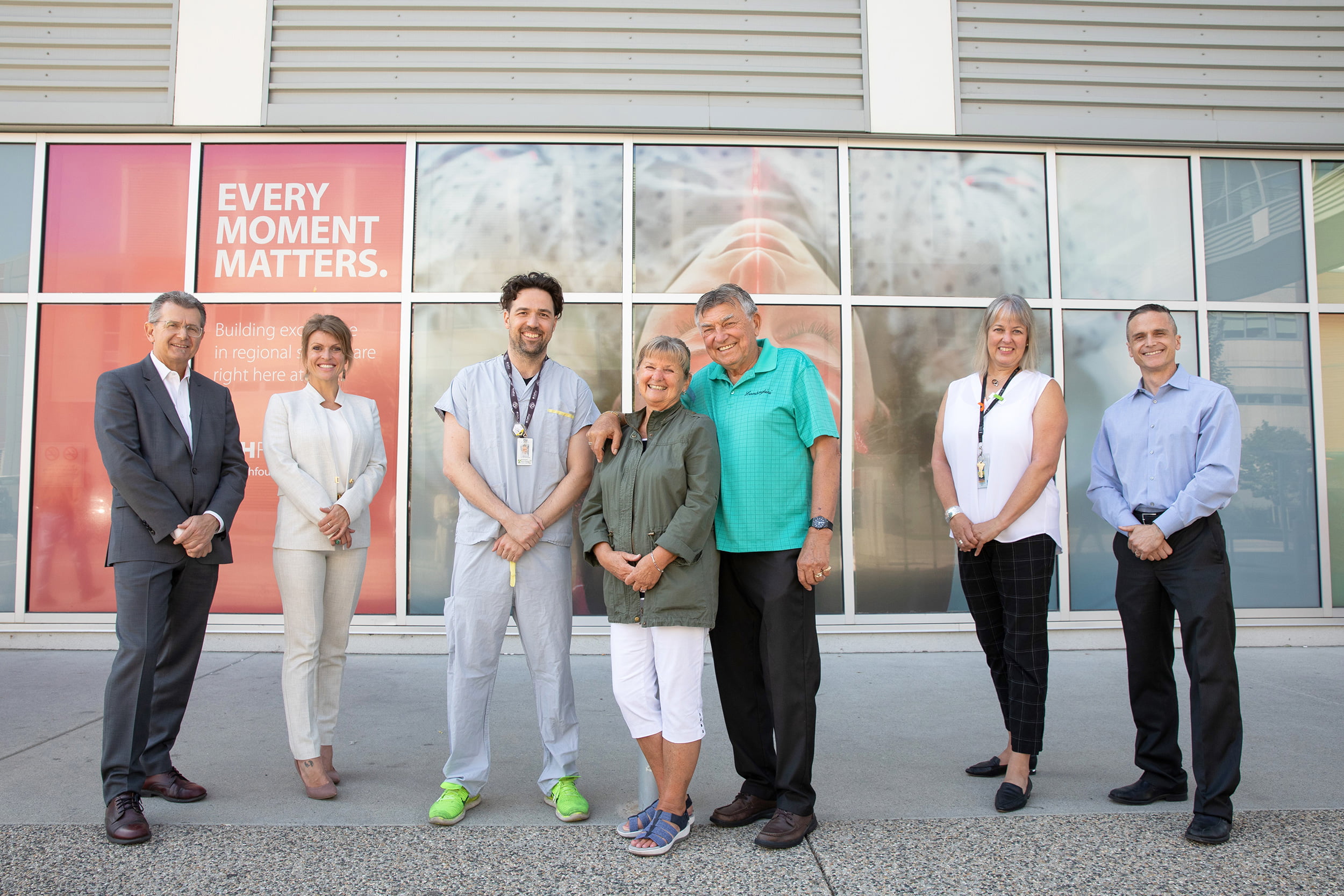 Pictured from left: Doug Rankmore, KGH Foundation CEO; Allison Ramchuk, KGH Foundation Chief Development Officer; Dr. Nevin de Korompay, KGH Interventional Radiologist; Judy & Marshall Eliuk; Cory Bendall, IH Network Director, Stroke Care; Dr. Aleksander Tkach, KGH Vascular Neurologist, IH Stroke Network Medical Director.
Since 1978, the KGH Foundation has worked with a generous community to raise funds to support world-class healthcare close to home for a rapidly expanding and diverse population in the interior of B.C.  Today, the KGH Foundation is the lead fundraising organization for Kelowna General Hospital and its associated facilities, JoeAnna's House and Central Okanagan Hospice House.