Tim Hortons Holiday Smile Cookie Campaign spreads joy and support for JoeAnna's House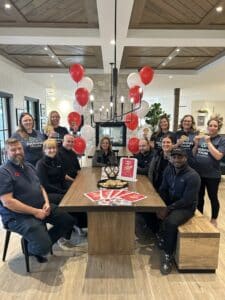 KELOWNA, B.C. – Launch into the holiday season with a delectable treat from Tim Hortons and support an important cause: JoeAnna's House. On November 13, Tim Hortons launched its inaugural national Holiday Smile Cookie Campaign, making taste buds dance while making a difference right here at home.
Feel good about indulging in a treat where 100 percent of the Holiday Smile Cookie proceeds go straight to local charities and community groups across Canada. In Kelowna, half of the proceeds will support Tims Camps, and the other half will help make things merry at JoeAnna's House. 
"Guests have cherished Tim Hortons' Smile Cookie campaign for over 25 years," says Lori Olsvik, Franchise Owner of five Tim Hortons locations in Kelowna. "Now, in the spirit of giving and making this season even brighter, Tim Hortons has introduced the first-ever national Holiday Smile Cookie Campaign."
A dozen Kelowna Tim Hortons locations have teamed up, picking JoeAnna's House as their charity of choice for the campaign. "We all got together and unanimously decided to support JoeAnna's House," explains Dawn Fiacco, Franchise Owner of three Tim Hortons locations in Kelowna. "We wanted to have a collective impact in our community and beyond, supporting JoeAnna's House and the KGH Foundation now and into the future."
As the leading referral hospital for up to 1 million residents in the BC interior, at any given time, one out of every four beds at Kelowna General Hospital (KGH) is occupied by someone outside the Central Okanagan. A serious accident; a sick child; a baby coming too soon…every year, thousands of families from across the interior of BC must travel from their homes in order to access life-saving, specialized care at KGH. 
JoeAnna's House offers affordable, short-term accommodation for families with loved ones receiving care at KGH. The beautiful home just across from Strathcona Park provides families with a safe and comfortable place to stay, just steps away from the hospital.
"I know I'll be buying a few cookies to support the Holiday Smile Cookie and JoeAnna's House," says Samantha Katzman, a guest at JoeAnna's House from Summerland, BC. "We are so grateful for this beautiful home away from home, so close to the hospital, and for the incredibly kind, thoughtful and supportive staff and volunteers. Being able to stay at JoeAnna's House is a bright spot in an otherwise difficult experience."
Since opening its doors in November 2019 and throughout the pandemic, JoeAnna's House has been a home away from home for over 1,900 families with loved ones receiving care at KGH.
Operated by the KGH Foundation and fueled by community donations, JoeAnna's House Director, Darlene Haslock, expresses her gratitude, saying, "We are thrilled to be the charity of choice for the inaugural Holiday Smile Cookie Campaign in Kelowna. Our tagline is that we are always better together. And now, thanks to our friends at Tim Hortons in Kelowna, we are even better together – with cookies!"
The Tim Hortons Holiday Smile Cookie is priced at a sweet $1.50 (plus tax), features a white chocolate sugar cookie base infused with red and green sprinkles, adorned with white icing to form the iconic Smile Cookie smile. The campaign runs from November 13 to 19.
Map out your route to a participating Kelowna Tim Hortons location supporting JoeAnna's House through the Holiday Smile Cookie Campaign. And if you want to spread the cheer to your business, family, or friends, visit the JoeAnna's House website and download the bulk order form to get your batch of Holiday Smile Cookies.
Since 1978, the KGH Foundation has worked with a generous community to raise funds to support world-class healthcare close to home for a rapidly expanding and diverse population in the interior of B.C.  Today, the KGH Foundation is the lead fundraising organization for Kelowna General Hospital and its associated facilities, JoeAnna's House, and Central Okanagan Hospice House.
Maria Lee
Marketing Manager                            
KGH Foundation
p | 250-862-4300 ext. 27270                                                    
c | 236-457-7311