Because play is more than just fun.
Kiwanis funds Strathcona Beach Park revitalization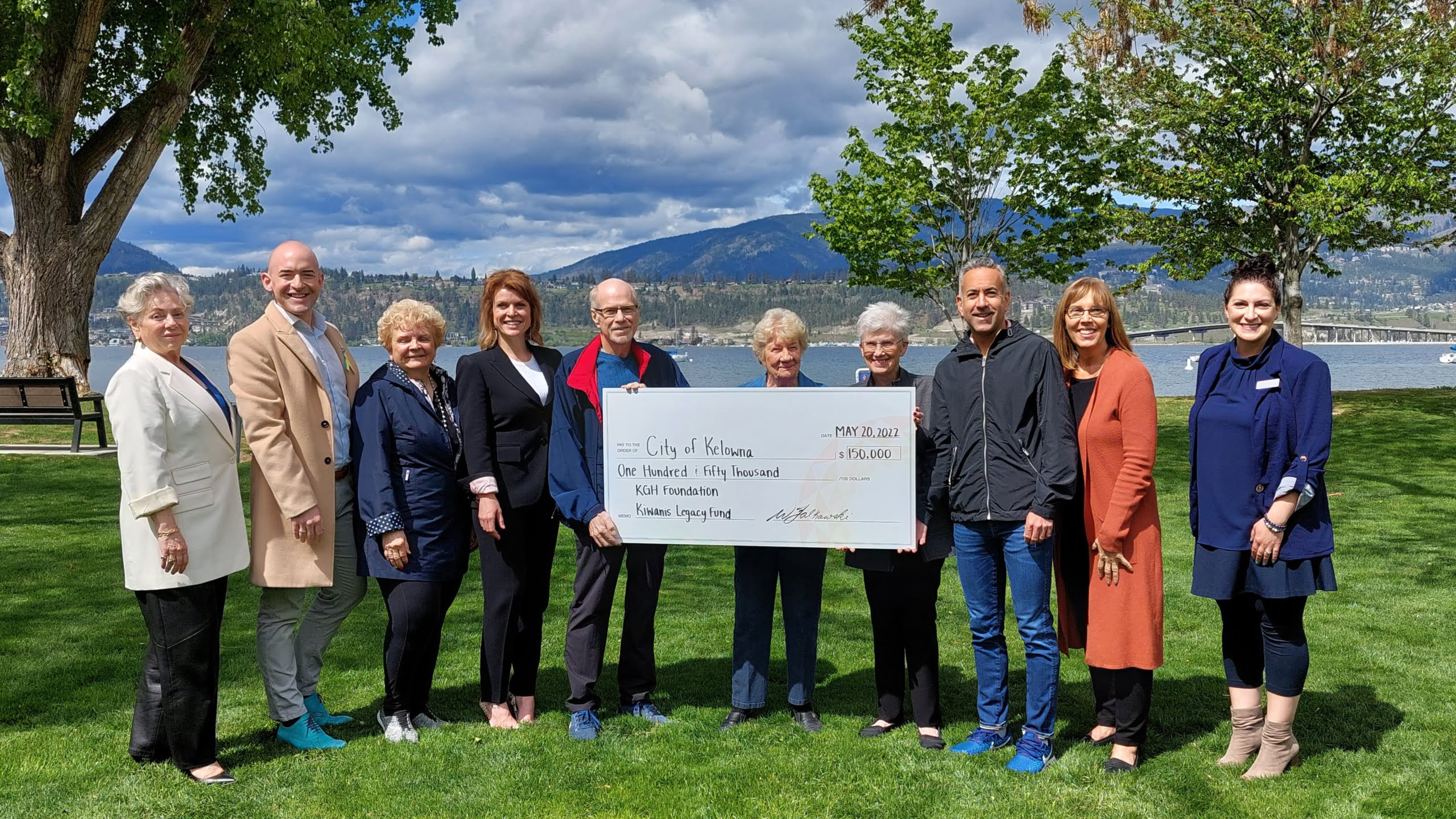 KELOWNA, BC, – June 1, 2022.  The first phase of the City of Kelowna's Strathcona Beach Park Project will be underway this fall, thanks to a significant grant awarded to the project by the KGH Foundation Kiwanis Legacy Fund.
Strathcona Beach Park is located in the city's South Pandosy neighbourhood, off Abbott Street between Rose Avenue and Royal Avenue.  Due to it's proximity to Kelowna General Hospital and other regional health services, the park is well utilized.  Hospital staff, patients and caregivers can often be seen enjoying the park alongside local children, youth and families.
The City's goal is to revitalize Strathcona Beach Park to create a more accessible and inclusive space for people of all ages, abilities and incomes.
"We have an opportunity to create a safe, universally accessible outdoor play space, with components that inspire creativity, create social interactions and, most importantly, support the mental health and well-being of all who visit," says Kelowna Mayor, Colin Basran.  "The City is thrilled to receive this funding from the KGH Foundation Kiwanis Legacy Fund to help create a new play space in this popular park in the South Pandosy neighbourhood."
The initial phase of the multi-year project sees the creation of a structural play area with components that are accessible, inclusive, and provide unique play opportunities for all. Funding for this first phase has been made possible by the Kiwanis Legacy Endowment Fund, which was established in 2017 following the sale of the Kiwanis Tower. Annual proceeds from the historic $4 million endowment gifted to the KGH Foundation are dedicated to supporting local healthcare programs and projects to benefit children and youth in the Central Okanagan.  Kiwanis is a global organization of volunteers dedicated to changing the world, one child and one community at a time.
"Playing is more than just fun, it is known that play increases mental health by boosting happiness, attention, memory, creativity, and connectivity," explains Kiwanis Legacy Fund Committee Chair, Wendy Falkowski. "The City's intention to create spaces in our community that facilitate play for all ages and abilities is really in alignment with what the Kiwanis legacy aims to achieve."
The City has received a $150,000 grant from the KGH Foundation Kiwanis Legacy Fund.  Construction for the Strathcona Beach Park revitalization project is set to begin this fall.
Since 1978, the KGH Foundation has worked with a generous community to raise funds to support world-class healthcare close to home for a rapidly expanding and diverse population in the interior of B.C.  Today, the KGH Foundation is the lead fundraising organization for Kelowna General Hospital and its associated facilities, JoeAnna's House and Central Okanagan Hospice House.