The Wishing Well
From 2019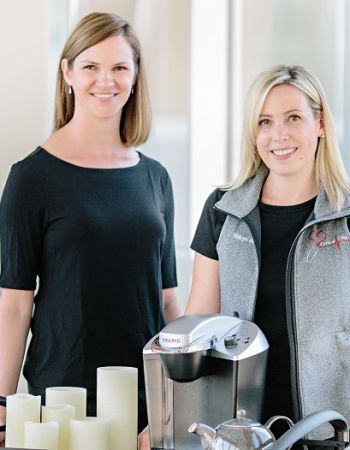 As nurses in the Intensive Care Unit (ICU) for nearly a decade, Robyn Goplen and Sybil Hoiss have spent countless hours at the bedsides of Kelowna General Hospital's most critically ill, helping to ease the end of life transition for both the patients and their families.
Indeed, coming to terms with losing a beloved family member or friend is one of the most difficult times a family will face. Witnessing this hardship first-hand, day after day, the two ICU nurses wanted to help address the families' longing for end of life rituals to process their loved one's imminent passing. And so, in 2017, the Wishing Well Project at KGH was born to help create meaningful end of life memories and keepsakes with loved ones in the ICU before they pass.
After researching similar initiatives at other health care sites in Canada, Robyn and Sybil applied for and were awarded a $5,000 Patient and Family Centred Care Grant, supported by the KGH Foundation. They developed a grass roots plan that they could implement themselves.
First, they designed a portable 'Comfort Cart' that can be easily wheeled into the hospital room and holds basic niceties to support families while they maintain their bedside vigil – coffee, tea, journals, tissues and other necessary items.
Then they sourced vendors that could supply beautiful, personalized keepsakes they could offer families, including Smallprint Okanagan, which creates pendants engraved with the loved ones finger print.
"The response from families has been overwhelming," notes Robyn. She recalls a recent experience that touched the ICU nurses deeply.
Early in 2018, a young woman was involved in a tragic avalanche incident and flown to KGH. Once here, it was determined that her injuries were such that recovery would not be possible, and her family made the courageous decision to consent to organ donation. Throughout the week they were in ICU, family and friends filled the hospital room with beautiful stories of their daughter and friend's life. Through their grief, they were supported by the comforts and keepsakes the Wishing Well provided and were able to remain close to the young woman at all times. It was an incredibly meaningful ritual for all that were at the bedside during that time, including the staff.
For the nurses and other health care providers, the Wishing Well project has provided them with a real sense of belonging, beyond just tending to a patient's medical need. It gives them the opportunity to enact the values that brought them to their profession in the first place, and facilitates a positive connection to the values of patient care that Kelowna General strives to embody.
Thanks to the generosity of donors, since November 2017, ICU nurses have provided over many families with comforting environments and memorable keepsakes to honour their loved ones at the end of life.
With continued donor support, the future of the Wishing Well project looks bright.
The goal is to expand the initiative to other units at KGH with palliative care beds. Robyn and Sybil are developing an education plan and training protocol for caregivers and staff.
By giving to support the Wishing Well Program, donors have changed the story families share about their loved one's end of life experiences at KGH.
"My fingerprint pendant hangs close to my heart and I find myself often just holding it. I love it and can't thank you enough for doing what you do." – Heidi H.
Giving really does change everything.