Stuck Here Waiting
From 2019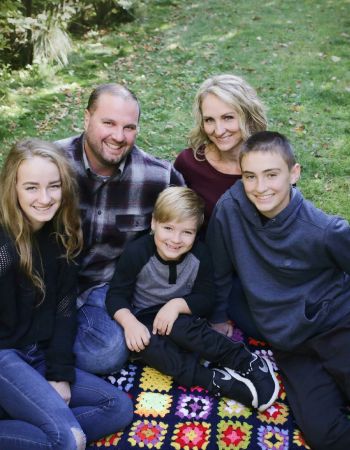 To look at Matthew Huff, you'd see a tall, strong, 44 year old man in the prime of his life.  A husband and father of three children and dedicated employee of locally based Kal Tire, Matthew has a bright smile and charming sense of humour.  He, seemingly, is just a regular guy.
Except that every day, Matthew relies on a tiny device implanted in his chest to stay alive.
Matthew lives with a serious cardiac condition that restricts his heart muscle's capacity to fully expand.  As a result, his heart has the potential to go into cardiac arrest at any moment. Thirteen years ago, Matthew was fitted with an implantable cardioverter defibrillator (ICD), a device that detects when the heart stops beating and immediately shocks it back into a regular rhythm.
This February, Matthew's ICD battery began to malfunction. The lifesaving device needed to be replaced as soon as possible. With no warning, Matthew found himself at Kelowna General Hospital, confined to his room, under the constant supervision of his cardiologist.
The procedure to replace an ICD is relatively uncomplicated. It takes about an hour from start to finish, and then, after a short recovery period post-procedure, you return home. Unfortunately, this kind of advanced heart rhythm service is currently only available at hospitals on the Lower Mainland and Vancouver Island.
Every year, hundreds of patients like Matthew from across the southern interior suffer from abnormal heart rhythm or cardiac arrhythmias. The burden is significant, carrying with it an increased risk for sudden cardiac death.
"It's very hard," said Matthew.  "I feel very vulnerable. I just want to go back to my life, planning spring break with my family.  But I'm stuck here, waiting."
Six days after Matthew was admitted to KGH, he was finally transported to Royal Columbian Hospital in New Westminster where a bed had become available. The next day, his ICD was replaced. Following a successful procedure, he was discharged was able to travel home.
Working closely with Interior Health's Cardiac Science team and, with the support of community donations, the KGH Foundation has committed to raise $7 million to fund a state-of-the-art EP lab at KGH, keeping interior patients closer to home and complete Interior Health's Cardiac Science Program.
The new Marshall Eliuk Cardiac Interventional and Advanced Heart Rhythm Program opened in 2020.