Rachel & Mark's Story
Every Moment Matters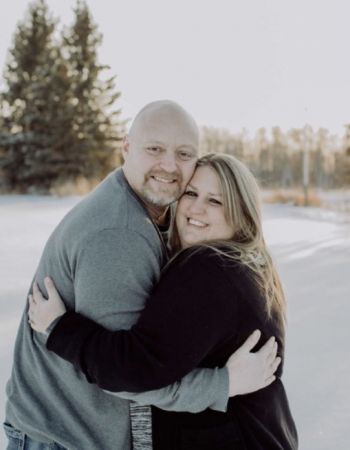 On a sunny summer day in August 2020, Mark Skinner, a healthy, active, 49-year-old husband and father to two children was driving his grader at work in Sparwood, BC, when suddenly, he began to feel off. His face started to droop and he noticed his brain was not connecting with his body; remarkably he recognized that he was having a stroke and was sent to the Sparwood Primary Care Centre.
Upon arrival Mark's situation was quickly assessed and he was immediately transported to the East Kootenay Hospital in Cranbrook, where he received a CT Scan, and it was confirmed that he in fact had suffered a stroke. Immediate transport to a hospital offering advanced stroke services is critical.  Every moment matters.  The challenge of geography in the southern interior of BC is significant. Those living in rural and remote areas of the region are extremely vulnerable. Mark was rushed by air ambulance to Kelowna General Hospital, the regional hub for advanced stroke care for patients from across the southern interior.  He became one of the first patients ever to receive an Endovascular Thrombectomy (EVT) – a life-saving neuro-interventional procedure to treat an acute ischemic stroke – at KGH.
Last year in British Columbia, there were over 8,100 reported cases of stroke.  While advancements in treatment have been made in recent years, the grim reality is that stroke is still the leading cause of long-term disability in adults and regrettably, the third leading cause of death in B.C.  It can happen at any age and increasingly, to younger men, like Mark, and women.
Behind the statistics are loved ones, and thousands of families whose lives are changed forever by the devastating impact of stroke.
When Mark's wife, Rachel, learned that her husband had suffered a stroke, she could not comprehend how a healthy, young man could be faced with this, "I thought it was a mistake and that stroke only happened to elderly people, not someone 49, active and healthy," she recalls, reflecting upon her arrival at Mark's bedside. "But when I saw him, I knew it was true.  The shock and devastation of the situation began to set in."
It came with no known warning signs and threw a curveball at this vibrant family from the East Kootenays.  Mark survived the stroke and the EVT procedure successfully removed the clot from Mark's brain.  But it was just the beginning.
Mark and Rachel would spend the next two months at KGH in recovery and rehabilitation. As the population centre for Interior Health and the leading referral hospital for over 1 million residents living in B.C., KGH is currently the only hospital outside of Victoria and the Lower Mainland to offer this level of advanced stroke care which is vital to the health of the region.
With Rachel by his side providing loving encouragement, Mark worked hard during physical therapy.  The emotional fall-out of his stroke began to take its toll.  He yearned to go home, see his kids, his dog, sleep in his own bed – at the same time realizing the degree of his physical impairment.  He became increasingly frustrated with the fact that although his mind knew what he wanted to do, his body was having difficulties performing even the most-simple of tasks.
"This has been the hardest thing we have ever gone through", Rachel emotionally shared. "Our world had been flipped upside down and looking into the uncertainty of the future was scary, but at the end of the day, I just feel so lucky that he is still here with me.
Nearly eight weeks after suffering his life-altering stroke, and with a long road still ahead to recovery, Mark was released from hospital.
Dr. Aleksander Tkach is a Vascular Neurologist at KGH and Interior Health's Medical Director of Stroke Care. While Mark and Rachel are grateful for the outstanding care Mark received during his stroke and in the months following, Dr. Tkach is passionate in his assertion that more be done to help improve treatment for patients living in the interior of BC, even in the most rural and remote locations.
The KGH Foundation has committed to raising $8 million to support a revolutionary, comprehensive stroke care plan that promises to touch ALL stages of the stroke care continuum, from onset to rehabilitation, research and prevention.
"We have a good standard of care, but our goal is world-class stroke care for patients in the interior," says Dr. Tkach.  "Advancements in research and treatment are making it possible for more and more patients to survive and recover from stroke.  But time is of the essence.  Rapid access to advanced, life-saving medical techniques within the established therapeutic window of care can measurably and significantly improve outcomes for those suffering a stroke."
Funding for more research and innovation, acquiring the most advanced equipment to treat stroke, while improving access for all patients in Interior Health is paramount to advancing stroke care in the southern interior region.
But we need your help.
Together, we can reduce the devastating impact of stroke and drive health care forward in our region.
Together we can transform stroke care in the southern interior, measurably and significantly improve the short and long term outcomes for regional patients.  The benefactors are more than just patients; they are our family members, friends, colleagues and neighbours. Together, we can save lives.
When every moment matters, we can be ready.
"To those reading our story I would like convey the importance of keeping our eyes open every day to notice and treasure things we may not have before – every day is a gift", says Rachel. "In a health crisis it really is true, every moment does matter."
Every Moment Matters
Learn More About The KGH Foundation's Campaign to advance stroke care in our region. When every moment matters, we can be ready.